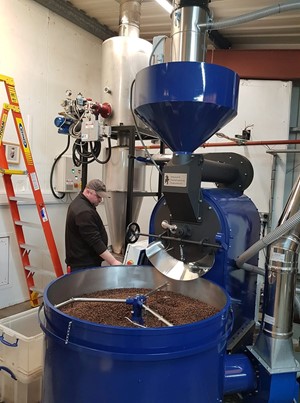 This is our brand shiny new roaster made by hand for us in Northern Italy.  Trabattoni is a small family run business with just the two owners and 3 staff.  Everything is done specially to order as each roaster is different.  We even got to choose the colour.  
(I am trying to find a reason why I need one of their wood-fired roasters…)  
Late in 2018, we were concerned that our main production roaster was being overworked and we were too reliant on one machine.  So we bought this lovely Roastmax which is a brilliant workhorse!  
It has almost unlimited control over the roast process so it is perfect for roasting different size batches up to 10kg.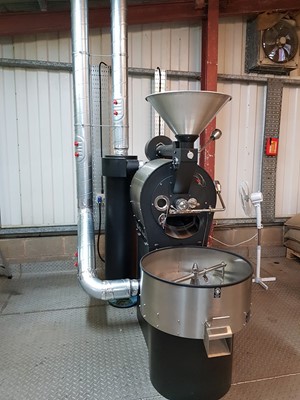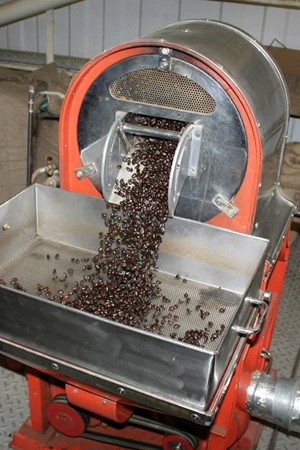 2kg Mather & Platt Roaster
Our most expensive seciality coffees are roasted on the "Little Red Roaster", made by Mather & Platt in Manchester 1965.
It still produces as good if not better results than all the others – despite being older than all the staff (except Jim).
The coffee rotates falling through the open flames in the middle of the drum.  This keeps the metal at a lower temperatures so the beans cannot scorch on the surface.
It is perfect for small-batch roasting.  It's time-consuming and labour-intensive but worth it.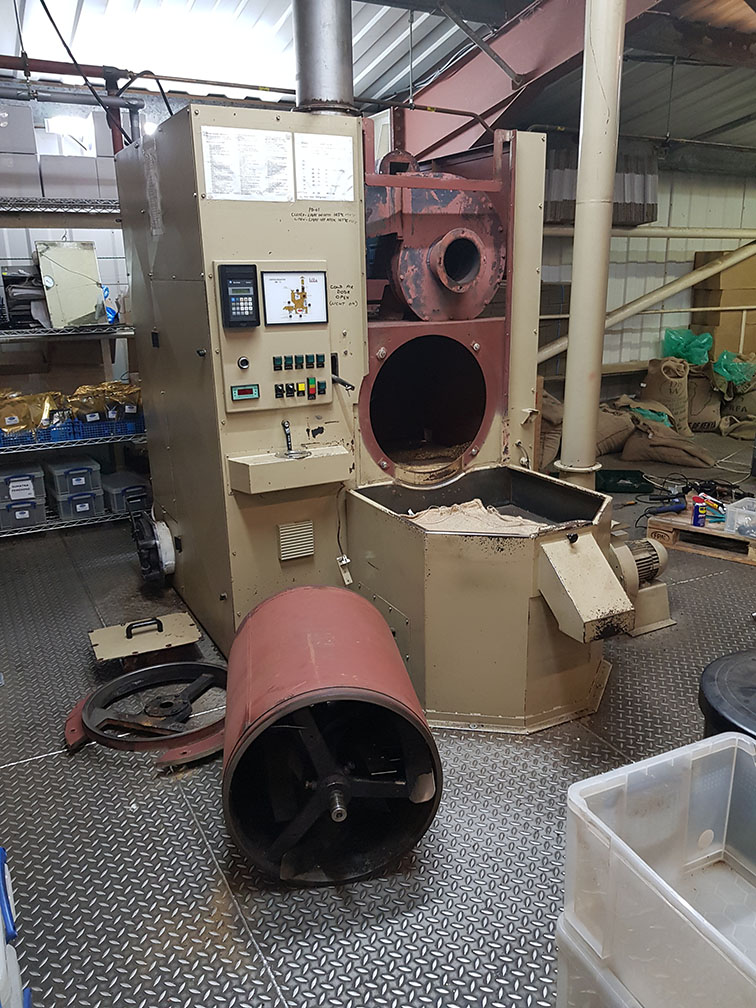 This is our super-ecologically-friendly Lilla Roaster.  Made in Brazil, it recycles the hot air from the drum back into the "furnace" which acts as it's own after-burner and wastes no heat which cuts down on the amount of gas used.
From 2005 until 2019, it has roasted most of our coffee.  So we are now working on a refurbishment program to bring it back to perfect working order for another 15 years…perhaps.
The 70 gram sample roaster is essential for sampling coffees when they are delivered so we know how best to roast them on a larger scale. It also helps us develop new and special "own blends" for individual customers.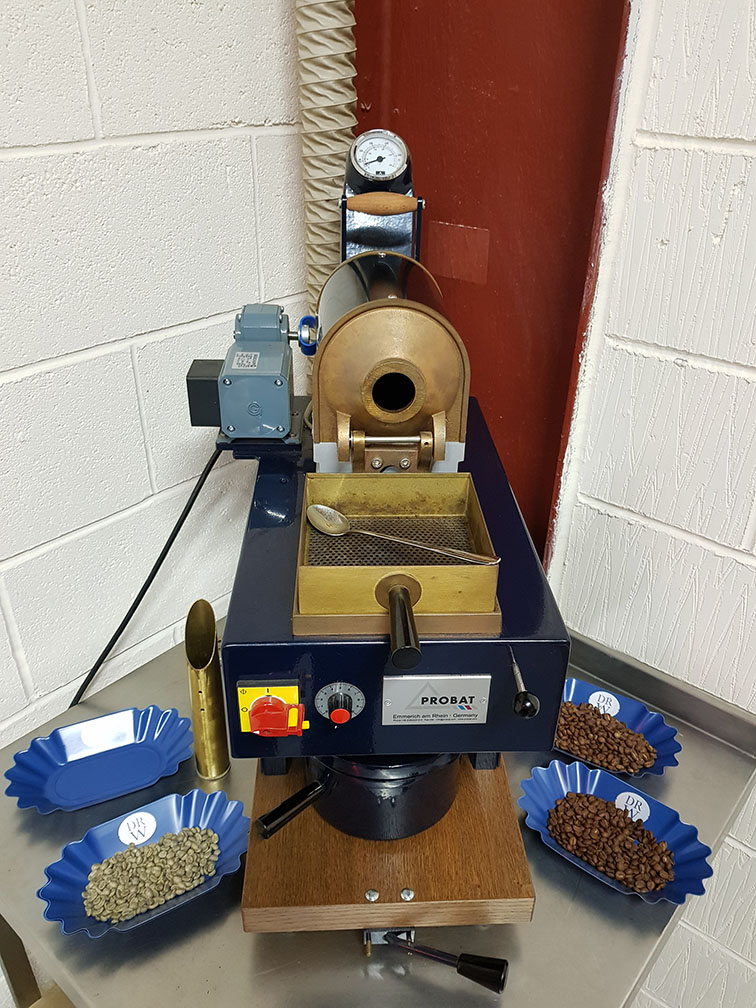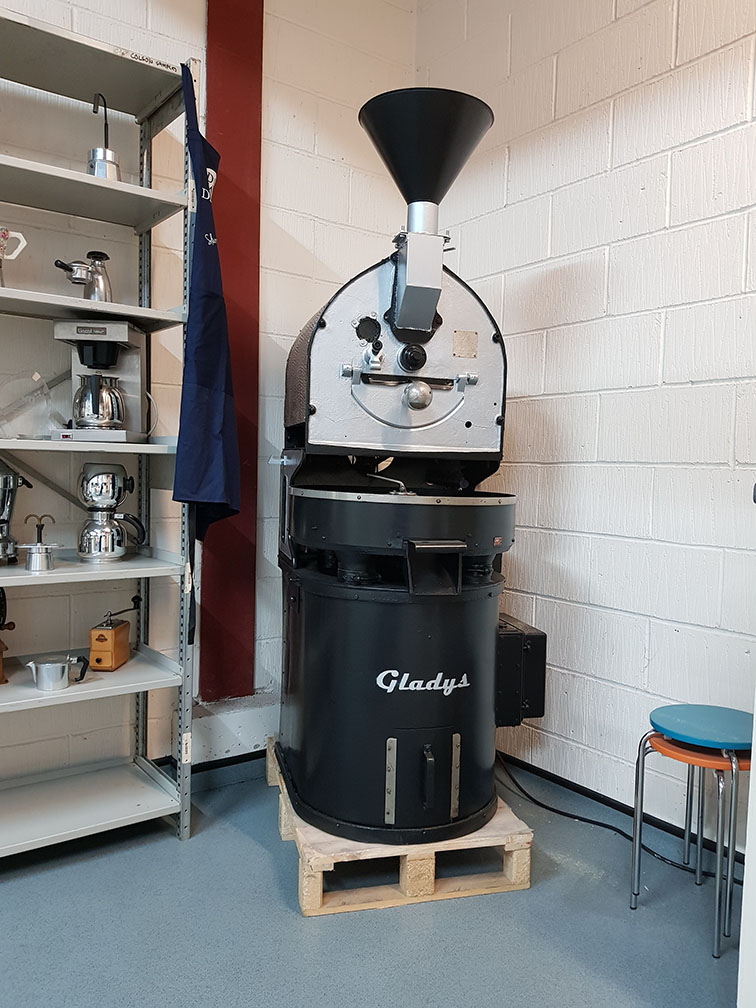 8kg/5kg Probat Roaster – "Gladys"
When I decided to run a coffee wholesale business in 1990, I bought "Gladys" from my friend Ali at Coffee World in Cambridge.  I met him at the International Coffee Organisation in London.  Ali told me he always loaded 8kg per roast.  I found out 15 years later that it was built for a 5kg batch.  Bit late! 
Gladys is now retired and, after a painstaking makeover by Sebastian and Hayley, graces the corner of our showroom.
I bumped into Ali again years later in Trieste at a trade exhibition with Giuseppe from Shropshire Coffee.  Many years ago, Giuseppe owned the Mather & Platt roaster and in 2018 introduced us to Matteo and Lisa at Trabattoni!