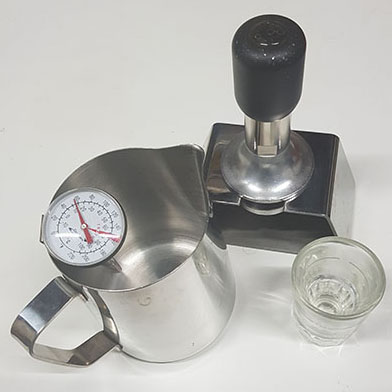 Barista Products
Accessories & Utensils
Everything you need to make the best of our fressh roast espresso beans.
Shot glasses, shot jugs, milk-foaming jugs, milk thermometers, spatulas, rubber tamping mats, constant pressure tampers, manual tampers, mini-whisks, chocolate shakers and more…
Ancillary Equipment
All the additional coffee equipment needed for an efficient, well equipped coffee bar.
Regular single-shot dose grinders, on-demand grinders, knock-out drawers and boxes, water softeners
Cleaning Products
Specialist cleaning products for your espresso machine and grinder.
Group-head detergent – powder and liquid – and group-head brushes for regular cleaning of traditional espresso machines. Grinder wheel cleaning crystals.  Detergent liquids, cleaning tablets and descaler for bean-to-cup coffee machines.
Crockery and Cutlery
Espresso, cappuccino cups and saucers, latte mugs and glasses. Plain or printed with your logo (no minimum quantity).  Extra-long latte spoons and extra-small espresso spoons.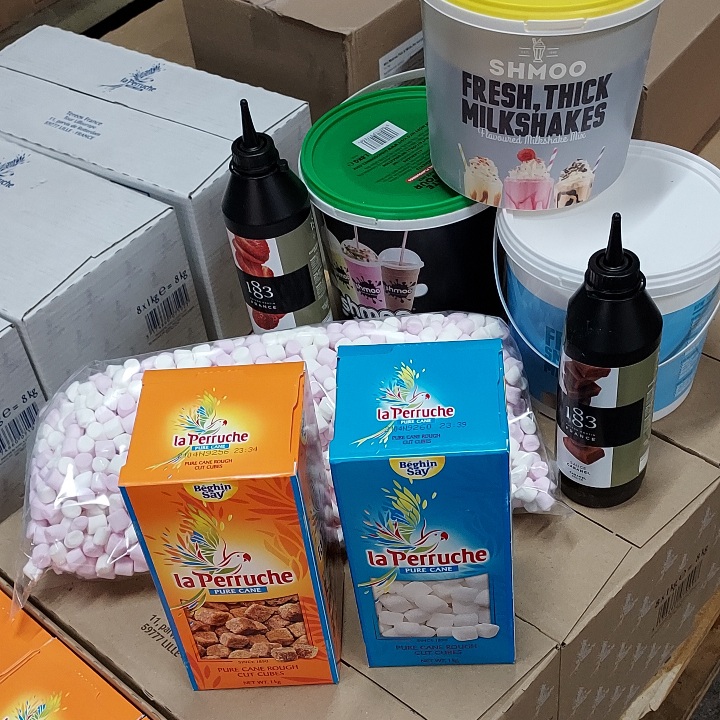 Miscellaneous Products
We sell almost every thing else to go with coffee:
Biscuits & Chocs

Individually wrapped "Lotus" caramelised biscuits. 

Sugar & Creamer

Brown & white sugar sticks & lumps.  Individual portions of UHT milk & creamer. 

Toppings

Belgian chocolate shavings.  Mini-marshmallows.  Stencils. 

Single Portion Coffees

Decaffeinated espresso pods.  

Takeaway Disposables

Ripple-wrap cups, lids, stirrers.

Machine Parts

Spare parts for most espresso machine brands and brewers.  Group handles, filter inserts, cleaning blanks, seals, knock-boxes, water softeneners…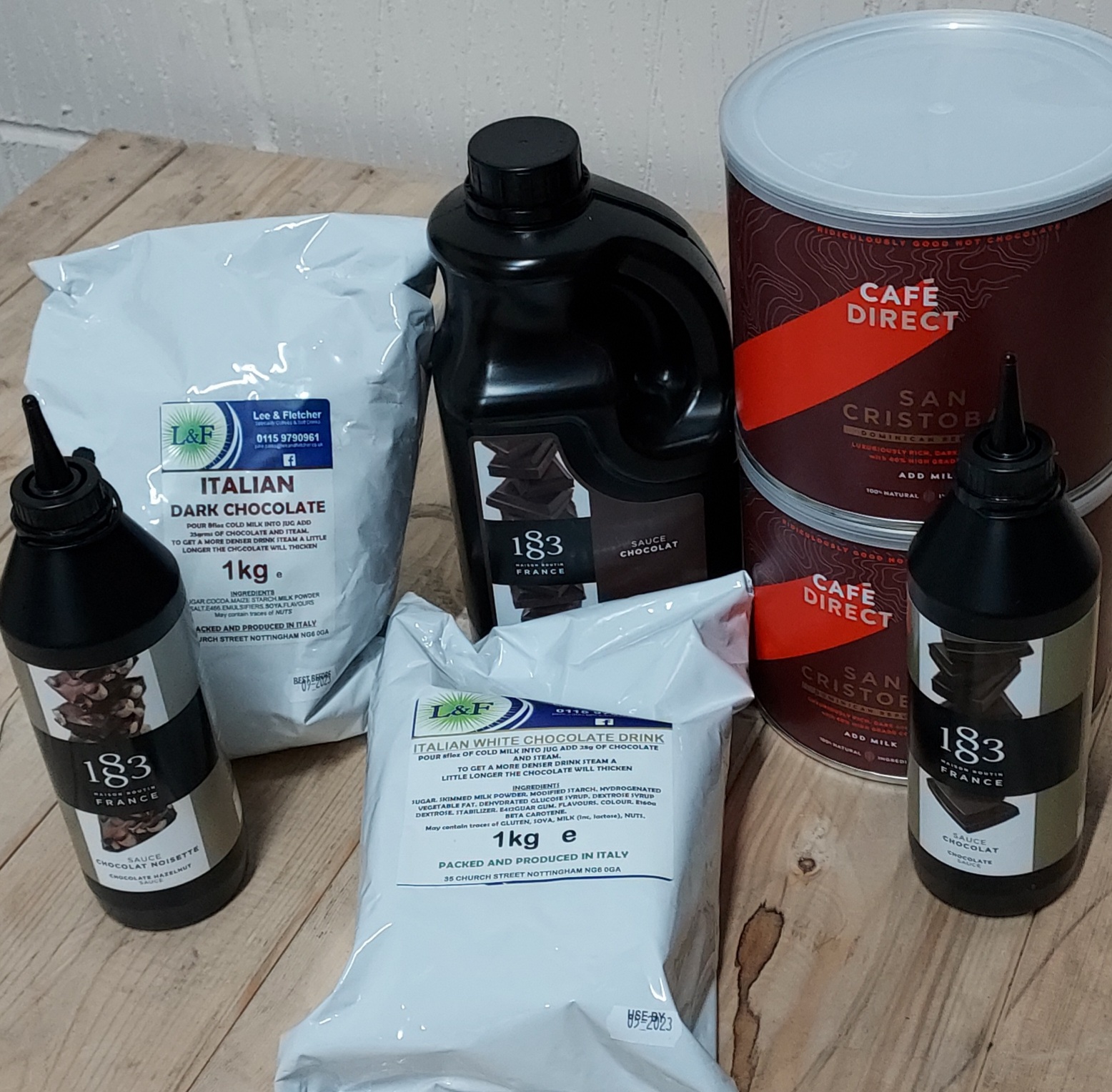 Hot Chocolate
We have a range of hot chocolates for different requirements.
Powders & syrups, dark & white.
You're bound to love one of them – or of course all. 
Italian Thick Choc

Our own brand Italian Thick Chocolate is rich and sweet and creamy and very thick.  
(It needs a milk steamer.)

It is available in White Chocolate as well as "normal" brown. 

Van Houten

Long established and highly regarded producers of a wide range of chocolate products.  We sell their "Special Bar" add-milk product in kilo boxes. 

Cocodirect

Cocodirect "San Cristobal" Fairtrade dark hot chocolate (add-milk) available packed in kilo containers.  40% cocoa from Dominican Republic.   100% natural ingredients – just cocoa and sugar 

1883 Gourmet Sauce

A thick, dark sauce ideal for frappes, mochas, milk shakes, toppings and lattes as well as luxurious hot chocolate drinks.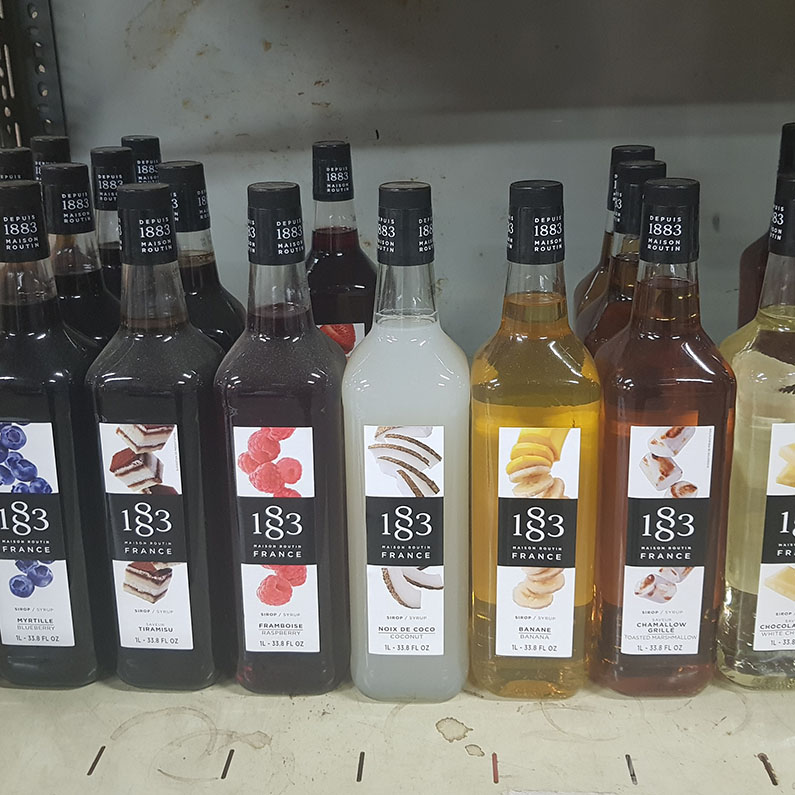 Syrups
We offer a wide range of syrups suitable for coffee, cocktails and cooking.  For more information visit
www.1883.com
or for a list of the range we supply see our price list:-

Price List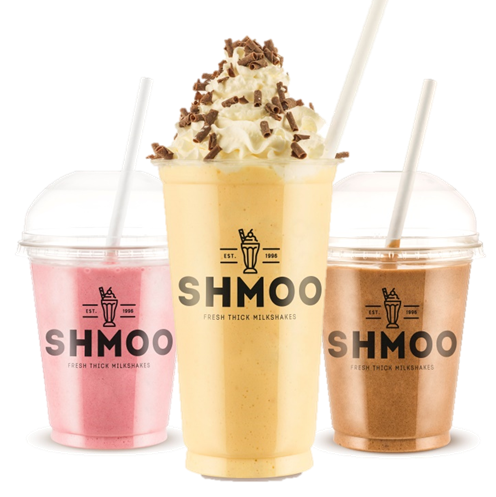 Schmoo
Thick Shake Mix – Chocolate, Strawberry, Banana, Vanilla and Chocolate Mint Use these flavours on their own or add syrups to invent your own recipes.
Shmoo milkshakes contain no artificial colours, flavours or preservatives* and are gluten free* and suitable for vegetarians*. In a 330 ml serving, Shmoo milkshakes comply with UK School Food guidelines and are School Friendly.
*When made to manufacturer's instructions, in a 330ml serving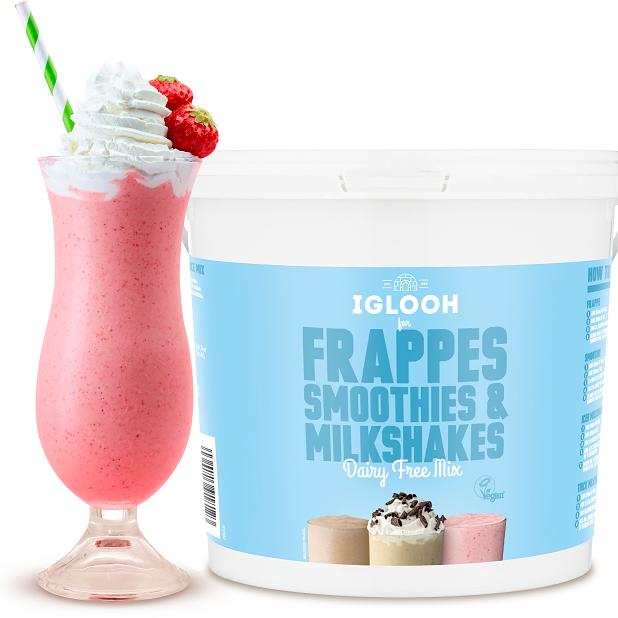 Iglooh
One simple product- thousands of different flavours, recipes and drinks. Make smoothies, frappes and milkshakes! Bring your menu up to speed with Iglooh. Iglooh provides caterers with an easy way to add endless new menu offerings, helping to make the preparation of iced drinks more simple. The dairy-free mix gives drinks a creamy, smooth, thick texture – no matter what milk or plant-based milk alternative you choose.